A MOB stormed the headquarters of Sierra Leone's former ruling party and two people were electrocuted to death in a looting spree, witnesses said overnight.
Police said they foiled a bid to steal dozens of government cars but that fridges, TV sets, electricity generators and office equipment were carted away from the Sierra Leone People's Party (SLPP) offices in central Freetown.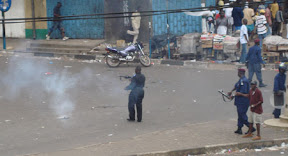 Police spokesman Chris Charley confirmed two deaths which he said "were not as a result of police actions" and added that several people had been arrested.
SLPP members hanging around the bereft offices said that two people had been electrocuted during the rampage.
An AFP reporter overnight saw the two bodies inside the building, during a tour of the offices by new Vice President Samuel Sam-Sumana.
The looting took place as the opposition leader Ernest Bai Koroma was sworn in as head of state following tense elections in which he beat the SLPP candidate, outgoing vice president Solomon Berewa.
Police in the northern border town of Kambia said they foiled an attempt to smuggle out some 80 government vehicles into Guinea.
Deputy police chief Tom Kanneh said the vehicles had been stolen from a government car park, their registration plates changed and they were to be taken across the border after the election results were announced.