Though Oprah, Angelina and Bono get oodles of media attention, other celebrities are out there trying to use their fame for good.
Isaiah Washington, 43
The former "Grey's Anatomy" star is shooting five episodes of NBC's new drama "The Bionic Woman," premiering Sept. 26.
His Gondobay Manga Foundation is building a school in the Njala Kendema village in Sierra Leone; 350 students are to start there this September.
After discovering his genetic link to Sierra Leone, he made two trips to the war-torn country and realized the need.
"I feel safer in Sierra Leone than I do in L.A., because they're my people and they're not trying to hurt you. If anything, they're maybe going to try to get money out of you to survive."
"There is one boy, about 8 years old, who I fell in love with. But I'm not interested in stripping him of his culture. My wife and I have three kids already, but we have talked about" adoption, "and we're not ruling it out."
"This is the thing that kept me sane. While all the negative was happening" on "Grey's Anatomy," "I had all this support over there. When I get to the point when I'm very frustrated, I go to my Web site to check e-mails from all over the world who want to help out."
For more info: http://gondobaymanga.org
Scarlett Johansson, 22


Her latest film, "The Nanny Diaries," is out Aug. 24. She is shooting Woody Allen's next movie in Spain.
She accompanied Oxfam, an international confederation focused on global poverty and suffering, for a two-week trip to India and Sri Lanka in March.
"We were not visiting the war zones of Sri Lanka because it can be so dangerous," she says. "I wanted to travel farther in to see what was going on, but they told me they weren't allowing vehicles. A school bus was blown up the day that we arrived. It was pretty horrible."
"I got all kinds of shots for hepatitis, yellow fever, Japanese encephalitis. And I had to drink bottled water because the water is disease-ridden and filthy."
"It was nice to feel part of the community. Certainly your own vanity is the last thing on your mind when you're traveling in a place like this."
"It's amazing to come home when you see people living in poverty. On one hand you're thinking," the celeb life "is so surreal, but it's my work and helps me bring awareness to Oxfam."
"I plan to go with Oxfam to Africa. I have never traveled much in Africa besides parts of southern Africa on holiday. I'd love to go to Liberia or Ethiopia."
For more info: oxfam.org
Lucy Liu, 38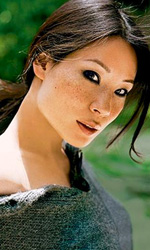 The actress is shooting ABC's new drama "Cashmere Mafia," premiering Nov. 27.
She accompanied UNICEF to the Democratic Republic of the Congo in June to probe violence against women and children. She visited six countries over nine days as part of her third UNICEF mission.
"I wanted to work internationally with children."
"I felt very secure. It's just a very different world when you are surrounded by a military escort wherever you go."
"You try to stick to a global idea of what you're doing instead of helping people individually. You have to look at the bigger picture."
"You do want to find relevance in your life. Especially when you go on a trip like this, it really changes you."
She paints and makes photo collages, and donates proceeds from art shows to UNICEF. "And if I do" uncredited cameos, "I have the production company donate the money to them."
"We're going to go to the Middle East at some point. There is a terrible refugee crisis in Iraq going on -- in Syria and Jordan specifically."
For more info: unicefusa.org