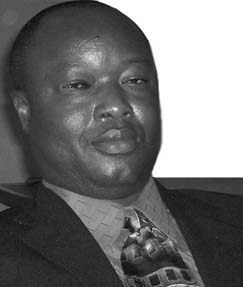 Vice President Sam Sumana(pictured), in a chat with me a couple of hours ago expressed regret for the alleged intimidation of SLPP supporters and business people in the Kono district.
The Vice President reiterated his earlier statement that the government needs the support of all Sierra Leoneans and business people without regard to their political affiliation, race or ethnicity.
Sam Sam-Sumana, besides making an effort to reach the president of the Lebanese Community in Kono district, Mr. Kassim Basma to reassure him of the APC's zero tolerance for lawlessness, stated that his administration will investigate the matter.
Reports from Kono state that some young people, identified as APC supporters, have been harassing SLPP supporters and some members of the business community in Kono following the APC electoral victory.
Sam-Sumana outrightly condemned any form of hooliganism and lawlessness including the alleged harassment of Mr. Fawaz, a Lebanese businessman of Sahr Lebbie Street in Koidu town.
"It does not sound good: President Ernest Koroma and I will not condone such lawlessness anywhere in Sierra Leone" he stated.
The Vice President emphasized that business people are an integral part of the country's economy. Their contribution to nation-building and national unity is going to be even needed now more than ever before. He took this as an opportunity to explain further that a vibrant private sector is needed to control the growing unemployment in Sierra Leone and that, according to him, is a very important aspect of the APC's agenda.
It is for this reason, he went on, that President Ernest Koroma prioritized the provision of a sustainable energy source to reduce production costs, stimulate production and to effectively reduce the price of consumer goods.
Sam Sumana also observed that newspaper reports that seek to establish a relationship between him and a band of lawless citizens in Kono district is a distraction and is counterproductive to national unity efforts.
He added that the APC will not be bogged down by journalists' sensationalism, that they(APC) have a job to do and have to do it very quickly.
"Previous governments' failures to deliver have left us with an impatient citizenry and we must prove ourselves," he concluded.