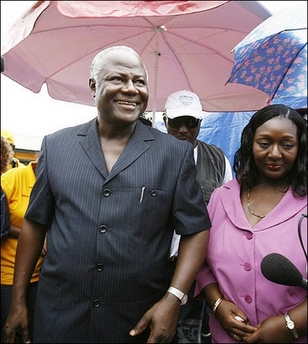 Two weeks after taking office with a pledge to fight corruption, Sierra Leone's president banned all outgoing government officials from leaving the country without special clearance from police.
President Ernest Bai Koroma's government issued a statement late Saturday requiring outgoing ministers and other senior officials who have access to public funds to get permission from the inspector general of police to leave the West African country.
Though the statement did not give a reason for the edict, it follows on promises by Koroma when he was sworn in Sept. 17 that he would adopt "zero tolerance on corruption and the mismanagement of state resources" in the country, which is still recovering from years of bloodshed.
Tens of thousands died in Sierra Leone's decade-long civil war, while countless others had their limbs hacked off by rebels or were brutalized in rape campaigns. U.N. forces helped re-establish peace in 2002, but Sierra Leone has been struggling to recover from the scars and the economic devastation of the war.
Koroma, previously the country's major opposition leader, was elected in the first presidential ballot since U.N. peacekeepers withdrew two years ago — a vote in which the ruling party candidate had been considered the front-runner. He won with 55 percent of votes cast in a run-off election with the then-vice president. Koroma, 54, has yet to appoint a Cabinet.
Though the headquarters of the former president's party was looted hours after the swearing-in ceremony and one person died in the melee, the transition has been largely peaceful so far.
Sierra Leone requires special clearance for outgoing officials to leave country - International Herald Tribune