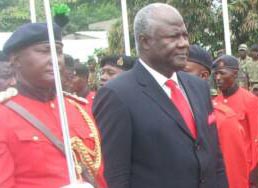 Intense drumming and singing among party supporters heralded last Friday's Presidential address by President Ernest Bai Koroma(pictured) on the state opening of the Third Parliament of the Second republic of Sierra Leone at the Chamber of Parliament building, Tower Hill.
Inside Parliament, both APC and SLPP Parliamentarians dressed in a colourful red and organge gowns respectively as the President Koroma made his first address to the nation in which he catalogued the vision for his new government following the recent Presidential elections.
The President, among other things said his government has a broad outline of priorities in the plan of action that will move the country forward and stressed the need to fight the dreaded corruption disease as well as instilling discipline and maintaining the hard won peace and national security.
He said his government shall ebnsure the independence of the judiciary and parliament by strengthening them so that they can each function effectively and independently.
In this vein, the president said, his government will abolish the Ministry of Parliamentary and Political Affairs and civil servants currently employed in that ministry will be redeployed.
In an unprecedented move, the president said public officiasls including himself will declare their assets publicly.
"I intend now to implement that commitment by reviewing the Anti-Corruption Act of 2002 to strengthen the powers of the Anti-Corruption Commission in order to ensure its independence in the full discharge of its duties.
"In accordance with this policy and in our effort to promote transparency and accountability, public officials including myself, will be required to declare their ssets. The modalities of this process are currently being worked out," he said.
President Koroma is the first head of state to make such a declaration and this has sent impressive signals to the public out there who count on his government to revive the country's economy.
Another major aspect the President touched on is that of electricity supply which has eluded residents particularly in Freetown but according to him, "the utmost priority of my government is the speedy restoration of electricity supply, not only to Freetown and its environs, but to all districts headquarters towns. It is clear that the demand for electricity in Freetown has not been satisfied throughout the past decade."
He said in the provinces, electricity supply is available only in Bo and Kenema. Bo and Kenema have a combined hydro and thermal system which complement each other in meeting alternate seasonal demands. Electric power supply in other districts is sadly non-existent.