Government Master Plan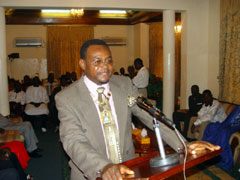 The mayor of Freetown Winstanley Bankole Johnson(pictured), in an article sent to the Vanguard today, has revealed a formidable master plan that he believes will cure the ills of the country's local governments(with emphasis on the capital, Freetown) and provide much needed social services.
Please read below the mayor's master plan or blueprint:
Sanity at Last! - The Mayor's Blueprint for Freetown.
By Winstanley.R.Bankole Johnson (JP. CO).
The theory of good democratic governance through effective and efficient municipal services delivery can best impact on the lives of our citizenry via a direct, overt and evident central government support for Local Government structures, as the acceptable vehicle social services delivery.
For much too long, government has been far removed from the governed. Everyone agrees that Freetown is not Sierra Leone, but even though 90% of the political leadership hails from the provinces, none of them has ever taken the risk to invest in any project outside Freetown. If local communities constitute the heartbeat or key performance indicator of successful governance, it follows therefore that the needs of each local community should not be underestimated.
I have read a number of articles proffering advice as to how President Koroma should define his cabinet. For my part, the only means of taking government to the electorate is by strengthening the capacity of Local Councils so as to be able to deliver the services for which they were created in the first place.
One sure way of doing that is by effectively appointing Regional (not Resident) Ministers without portfolio (Cabinet status) to address core social needs of communities in tandem with the Local Councils. A Ministry of Agriculture (and Forestry) has no relevance in Freetown Youyi Buildings, nor do we need an unelected Minister of Local Government to supervise duly elected Mayors, Chairmen and Councillors. That Ministry can and should be blended with Internal Affairs.
Ministers of Cabinet status should only be appointed for activities with perceived or actual national risks or not fully covered under the devolution and decentralization scope such as Education, Energy and Power, Information, Development, Health and Sanitation, Finance, Defense, Foreign Affairs and International Co-operation, Transport and Communication, Marine and Mineral Resources and Trade and Industry. In short, a reduced Cabinet is recommended.
The immediate advantages of such streamlining process is that (a) Devolution and decentralization will receive the seriousness it deserves (b) Urban migration will be stemmed and eventually reversed as (c) Rural development accelerates, social services delivery improves, job opportunities enhances (d) Government overhead expenses drastically reduced and over and above all, (e) foster national cohesion and integration, which is fundamental to our development process.
So as we assume the reins of central governance, it is imperative therefore that we hit the ground running, by initiating and accelerating implementation of conspicuous needful projects across every municipality, district, town, and village that will ultimately reflect an improvement the social well being and development of our communities and country as a whole.
The areas in dire need of attention that readily come to mind are -:
· Provision of sustainable electricity and drinkable water supply
· Provision of accessible and affordable medical and health care facilities
· Access to basic education for all children with emphasis on the girl child and improvement and development of tertiary education facilities
· Introduction of Low-Cost Housing development projects
· Maintenance of good roads networks through construction and rehabilitation of feeder roads
· Improvement and development of administrative justice and social order
· Construction, rehabilitation/expansion of Markets, Parks and Cemeteries.
Whilst it is acknowledged that the successful implementation of all above carry huge financial implications, a judicious management of own resources and our APC Party's avowed policy of zero-tolerance on corruption can certainly engender local resource mobilization and extensively reduce reliance on external donor support.
With due cognizance for existing statutes such as the NPA and GVWC Acts among others, it must be stated that the ethos of the Local Government Act of 2004 with specific reference to the aspects of devolution and decentralization, offers a rare opportunity for adequate leverage and synergy between central and local government administrations countrywide.
It is a fact that on account of mass migration to the capital city engendered by the outbreak of the Rebel war and its immediate aftermath, the population of Freetown has more than doubled to it present over 1.2mio inhabitants - all scrounging for access to basic social amenities that have remained unmodified since their 1961 pre-independence dimensions to compliment changing circumstances.
Electricity and water transmission and distribution infrastructure networks are archaic and obsolete, Feeder Roads and Bye-Pass networks remain dilapidated, Schools, Cemeteries, Markets, Parks and Civic Gardens and Halls within the Freetown metropolis are unable to meet or cope with present demands and are literally screaming for expansion, rehabilitation and or alternative replacements or relocations
Part 1- To be continued