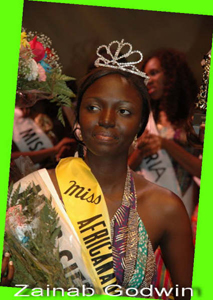 Zainab Godwin was on August 27, 2007 crowned Miss Africanada 2007 in Toronto, Canada; the first Sierra Leonean to win this prestigeous title since the pageant started nine years ago.
Amidst seventeen other beauty contestants from all accros the continent of Africa, Godwin, 19, not only went home "The Queen of the Night" but also won the hearts of the 600 plus cheering audience that attended the event.
The support of the local communities from Somalia, Kenya, Zimbabwe, Sierra Leone, Tanzania, Zambia, Ivory Coast, Egypt, Congo, Ghana, Nigeria and Niger, etc, was noticeably present.
"This is a so real," Godwin said.
The 9th annual Miss Africanada 2007 was jointly organised by the African Heritage Association and Pacenations. Both organizations are Canadian-based companies that organize, promote and produce a variety of events within the African Canadian community in Canada.
Ammar Kamara is the founder and Artistic Director of Pride of Africa Cultural Entertainment Group (Pacenations).
"It was a great evening that went as planned," Kamara told me on the phone.
"Zainab Godwin won the hearts of everyone including the loud and excited audience."
Kamara confirmed that Godwin's prizes include two round-trip tickets to any African country of her choice, $500 (Can) spending money, a dinner for two, plus a bunch of other gift certificates for shopping and entertainment.
On the phone, I asked Godwin if she has chosen the country to visit.
"Sierra Leone, of course, where else?"
Godwin is currently in her first year in the faculty of criminology at the University of Ontario in Canada. She stated that the pageant has not only put her in the spotlight but has also put the name "Sierra Leone" on the limelight. She explained that since winning the "Miss Africanada 2007", she's been getting attention all over the place.
She confirmed that the attention is not only about her but also about the "land that we love our Sierra Leone'.
The first 1st runner-up position went to Miss Sara Adima Opoku from Ghana and the 2nd runner-up position went to Miss Zvikomborero (Chris) Rukovo from Zimbabwe.
The beauty pageant was graced with performances from internationally renowned singers and performers, among them was "The Sudanese Child" Dynamq. This performance was very lively and dropped his new single exclusively for this event called "Nobody".
Other artistes that performed were Bridgy Hynes & Nofe Liberty (daughter of Felix Liberty), Lady Diamond of the Qryptonik Records , Felling Brother Francis took the stage with some High Life performances. His gig was so strong that the audienc requested for his follow up act.
"Miss Africanada 2007" has a message for all the young Sierra Leonean girls in the diaspora as well back home: "If you have a talent, don't be afraid to show it."
As at press time, Godwin has confirmed that she has got a contract with a US based model company, African Models International, to model for the company starting November 12, 2007 in DC, USA.