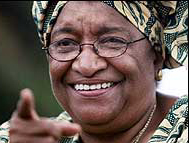 Liberian president Ellen Johnson-Sirleaf(pictured) has been one of the first leaders to congratulate Ernest Koroma, the new president of Sierra Leone that has already been sworn in at State House in Freetown this evening.
In her statement, signed by Press Secretary Cyrus Badio, Johnson-Sirleaf,on behalf of the Government and people of Liberia, commended the people of Sierra Leone for the manner in which they have participated in a democratic process, congratulates Mr. Ernest Koroma for success in winning the Presidential Vote.
The Executive Mansion statement said the President and the Government of Liberia look forward to a continuation of the warm spirit of friendship and partnership that exists between the Government and people of Sierra Leone, and the government and people of Liberia.
The Liberian president also looks forward to the strengthening of the Mano River Union, "for the good of all the neighboring countries of the sub-region."
Other congratulatory messages came from UN Secretary General Ban Ki Moon,Peace and Liberation Party(PLP) North America spokesman Danfa Williams Kabia and the APC-PMDC coalition, North-America branch.