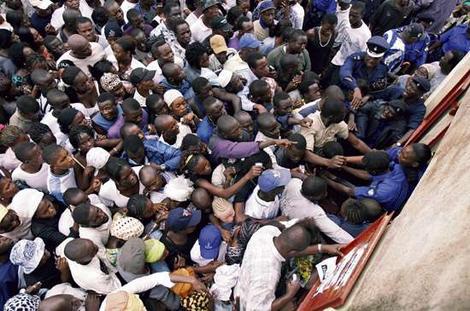 The recently concluded Presidential and Parliamentary elections have been a topic for discussion in certain parts of the country, especially concerning sensitization campaigns around voter education.
Many people thought that the electorate was not given adequate education on the need to vote or be voted for.
Some of the opinion contributors stated that from the registration it shows that people are not adequately educated on election provisions in a democratic state.
A senior statistician from one of the Tertiary institutions who preferred not to be named, said that from his own statistics the results coming out so far are not encouraging, which shows that people need more education on the voting exercise.
He further went on to say that after elections voter education becomes a thing of the past.
"People are educated on election just about few months to the elections and the National Electoral Commission would not do the entire job," he said.
A trader, Momodu Mansaray, said that he thought people were finding it difficult to cast their votes, because in a privileged conversation with some of the voters, he said they explained that they voted on one ballot paper and then left the other ballot empty, which is now counted as void votes.
He said some voters still signed their names, even after NEC had said that signing names would not be counted.
Madam Baby Kelly said that the 84,000 void votes NEC is claiming shows the poor level of education people had before going to the polls.
She further said that the 1,234,630 votes released by NEC with a percentage of 61.6% shows the low level of education on voting.
"84% is very high to the number of voters as about 700,000 did not vote," she said.
She also said that the number that did not vote is alarming and that is also a cause for concern to all political parties that their parliamentarians should better educate their supporters on how to cast their votes.
Madam Kelly also said that most of the candidates do not educate their supporters on how to vote, but give promises to get elected, not realizing that some voters are still ignorant about this kind of voting.
Another contributor, a teacher, Musa Tarawallie, disagreed and said that people had been voting with these ballot papers since 1996, but for some reason there were more void votes in 2007.
allAfrica.com: Sierra Leone: Poor Voter Education a Problem (Page 1 of 1)