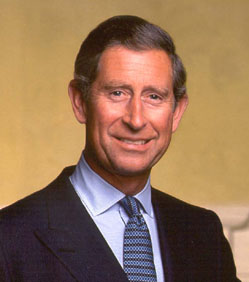 Prince Charles has been welcomed to Sierra Leone with a performance of music and dance by the west African country's National Dance Group.
The prince then had a go at drumming himself at the golf club in the capital, Freetown.
Earlier he was greeted at Lungi airport by President Ahmad Tejan Kabbah and the UK's high commissioner Sarah MacIntosh.
The prince will spend less than 24 hours in the country, which is recovering from 10 years of civil war.
Given drumsticks
The display - on the prince's first visit to the country - featured drummers in the national colours of green, blue and white, and female dancers in gold and white dresses.
Charles was offered pair of drumsticks and joined the drummers in beating out a rhythm.
He was joined by the high commissioner and national politicians to watch a play about deforestation, a process which is devastating the country's rainforests.
On the first visit by a member of the Royal Family since the Queen's in 1961 Charles, who is travelling without the Duchess of Cornwall, was guest of honour at a presidential reception held at the head of state's lodge.
He told the country's leading figures that the UK had a special bond with Sierra Leone.
'Heartbreaking to watch'
"Our two nations, two Commonwealth partners, share a long and close friendship and I know only too well within the lifetime of everyone here Sierra Leone has suffered so deeply and so tragically," he said.
It was "heartbreaking for people like myself to watch it happen", he added.
Tens of thousands of people were killed, millions displaced and many atrocities committed during the conflict.
The prince said: "Already today amongst the groups of people I've met I've seen encouraging evidence of the new Sierra Leone determined to turn away from those dark years."
Charles praised the "truly remarkable" role of British armed forces who helped bring stability to the country towards the end of the war.
President Kabbah told the prince: "Although your stay will be brief we hope it will create lasting memories, friendship, trust and goodwill between our two countries."